Research & Discoveries (R&D): The Waymo Driver is Already Improving Road Safety
Academics and experts around the world are studying how AVs can improve safety, enhance mobility, and create new economic opportunities, among other transformative benefits. AVIA's Research & Discoveries (R&D) Series highlights these reports' findings about how AVs can create a safer and more mobile world.
Need To Know (NTK): Waymo Is Already Reducing Traffic Injuries and Fatalities.
Based on a variety of data points and peer-reviewed research, it is clear the Waymo driver is improving road safety in Phoenix and San Francisco where the company operates.
WAYMO DATA DEMONSTRATES SAFETY RECORD
Waymo data shows that Waymo Driver is reducing traffic injuries and fatalities:
No collisions with pedestrians or cyclists

Every vehicle-to-vehicle collision involved poor driving by another human
AVs DON'T SPEED, UNLIKE HUMANS
AVs follow speed limits to maintain safety, but new research from Waymo found that human drivers are speeding almost half (47%) of the time. Speeding is a leading cause of motor vehicle fatalities, contributing to 11,258 deaths and 308,013 injuries in the U.S. in 2020. By aggregating and anonymizing the observed data where Waymo operates in San Francisco and Phoenix, research found that: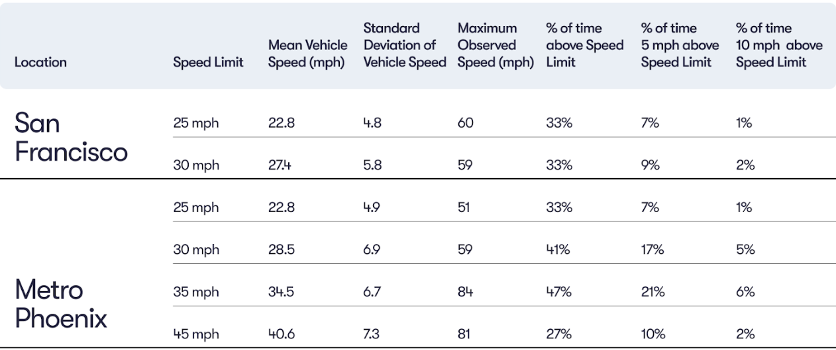 Human drivers exceeded the speed limit from 27-47% of the time, depending on the road's speed limit

Human drivers drove +5 mph over the limit 7-21% of the time

Human drivers were regularly observed going dangerously over the speed limit
Every 7 mph increase in impact speed between a car and pedestrian doubles the odds of a serious injury or fatality. Too often, human drivers ignore the posted speed limit – increasing the likelihood of a crash.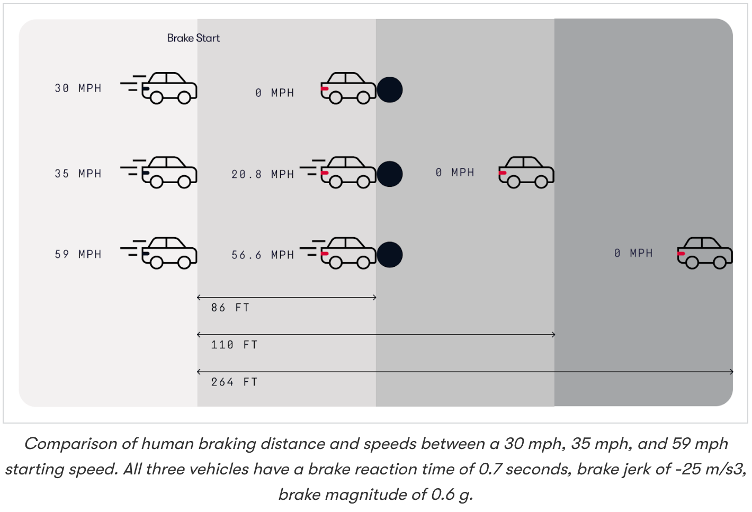 By respecting the rules of the road and the speed limit, AVs will make our roads safer.
HOLISTIC EVALUATION
Waymo has published explanations and internal methodologies used to evaluate the readiness and safety of the Waymo Driver:
Development, qualification, deployment and sustained field operation are the focus of the methodology.

The dynamic approach to safety includes three perspectives of safety:

safety as an emergent development property;

safety as an acceptable prediction and/or observation;

safety as continuous confidence growth.

The toolkit for building a safety case serves as an alignment and guide to justify that the set of acceptance criteria is sufficient and the evaluation methods used are credible.
CONCLUSION
There is no reason to accept the status quo of lives lost on U.S. roads – 43,000 people in 2022 alone. With more optimized driving, AVs are already improving safety on the roads where they operate. Continued evaluation and deployment of the technology will help to further improve road safety.