Member Spotlight: Kodiak Robotics
Welcome to our Member Spotlight series where we explore the diverse companies developing autonomous vehicles for a safer, more mobile and more connected world. We spoke with Kodiak Robotics to learn more about their mission to solve the trucking industry's greatest challenges.
How is your company advancing autonomous vehicles?
Kodiak Robotics was founded in 2018 to develop autonomous technology that carries freight forward — so people, partners, and the planet thrive. Kodiak delivers freight daily from its operations center in Dallas-Fort Worth to Houston, Austin, Oklahoma City, and across the South, making trucking safer and more efficient. These partners include trucking industry leaders such as Werner, IKEA, U.S. Xpress, CEVA Logistics, and 10 Roads Express.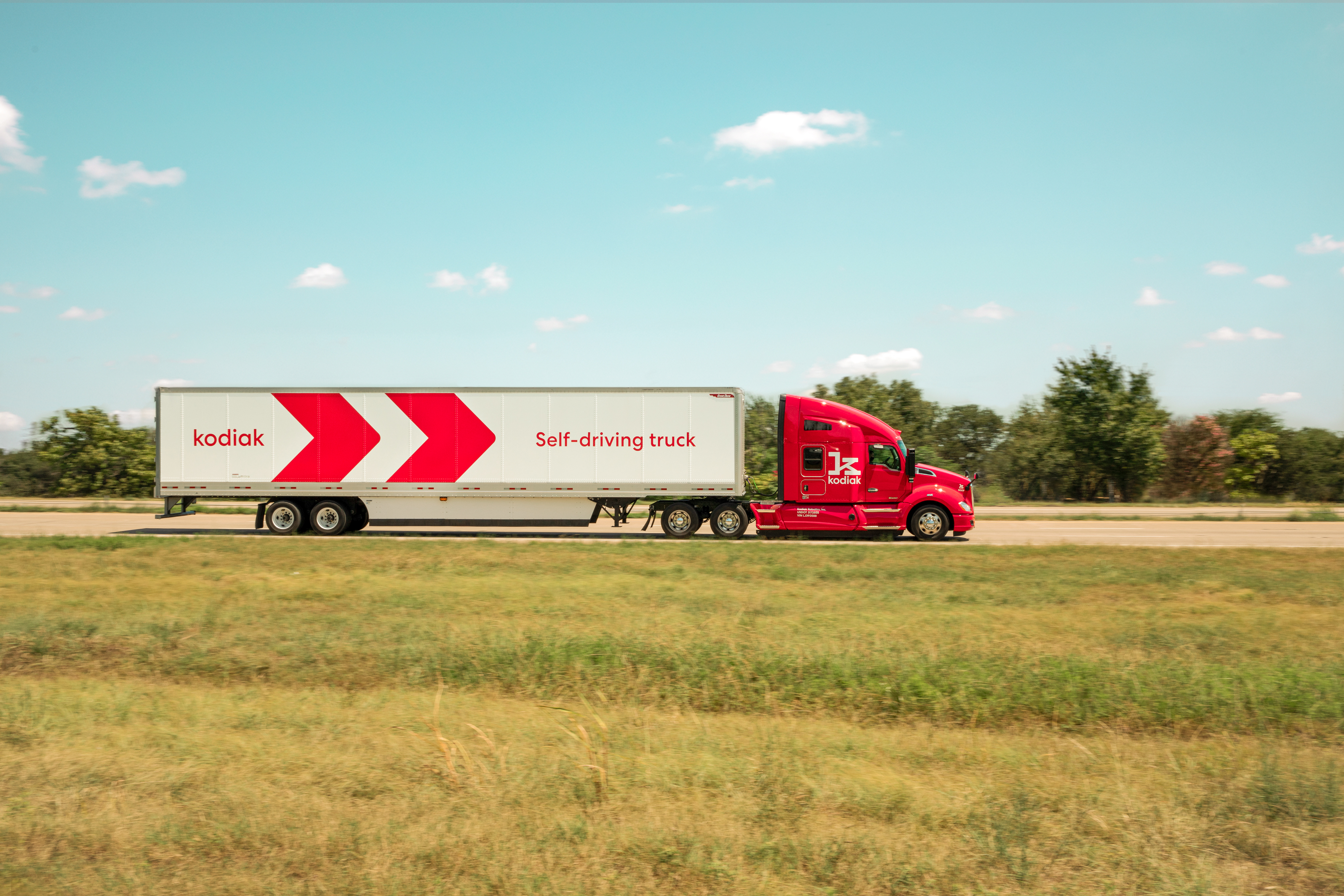 Kodiak has designed its technology to meet the unique reliability and serviceability needs of the trucking industry. For example, Kodiak's unique modular hardware approach integrates the truck's sensors into a streamlined SensorPod that can be swapped out for service in as little as 10 minutes. Kodiak has also been a leader in developing safety technology: in 2022, the company demonstrated its fallback capabilities and ability to handle steer tire blowouts.
In October, Kodiak announced its first use case for its technology beyond trucking, after receiving a nearly $50M contract from the U.S. Department of Defense. Through this contract, Kodiak will develop software that will help automate future U.S. Army ground reconnaissance vehicles through the Army's Robotic Combat Vehicle (RCV) program, helping to keep servicemembers out of harm's way.
What is an example of a challenge your company is solving for?
Deploying autonomous vehicles requires more than great technology. Companies like Kodiak are collaborating with their partners to integrate AV technology into today's existing freight ecosystem and to explore how automation will change trucking. Through Kodiak's Partner Deployment Program, Kodiak is working closely with its freight partners to identify how the kodiakDriver will impact freight operations, from inspections and maintenance to distribution center operations. With Pilot Company, the largest operator of travel centers in North America, Kodiak is focused on making sure services such as refueling are available to Kodiak's partners' fleets. Kodiak has also partnered with Bridgestone to integrate Bridgestone's smart-sensing tire technologies into Kodiak's autonomous trucks, while piloting mobility technologies to enable safer, more sustainable autonomous operations. Both Pilot and Bridgestone are investors in Kodiak.
Why is the work of your company important?
Trucking is among the most dangerous and difficult jobs that Americans do: nearly 5000 Americans last year were killed in crashes involving long-haul trucks. Autonomous technology, like Kodiak's, has the potential to reduce the toll of traffic crashes. Autonomous trucks don't speed, they don't text and drive, and they don't drive drunk, drowsy, or distracted. This will help make the roads safer for everyone.
But the benefits of autonomous trucking technology goes beyond safety. We've all felt the impacts of the supply chain crisis over the past two years. While the crisis has many causes, the reality is that America simply doesn't have enough truck drivers. The American Trucking Association estimates that there is a shortage of approximately 80,000 drivers: that number is expected to reach 160,000 by 2030. By automating long-haul, we can create more of the sustainable local and regional jobs that more drivers want to do. That will allow them to work a long day but still make it home for dinner and to take the kids to soccer practice.
What policy solutions are most important for your company?
2022 was truly a transformational year for AV trucking, as policymakers really began to wrap their heads around the technology and its benefits. This momentum can be seen in two areas in particular. First, trucking is by its nature an interstate business, so state-level policy is critical to enabling deployment. 2022 saw considerable momentum in favor of AV trucking in the states: enabling legislation was passed in Oklahoma, West Virginia, Kansas, and Pennsylvania.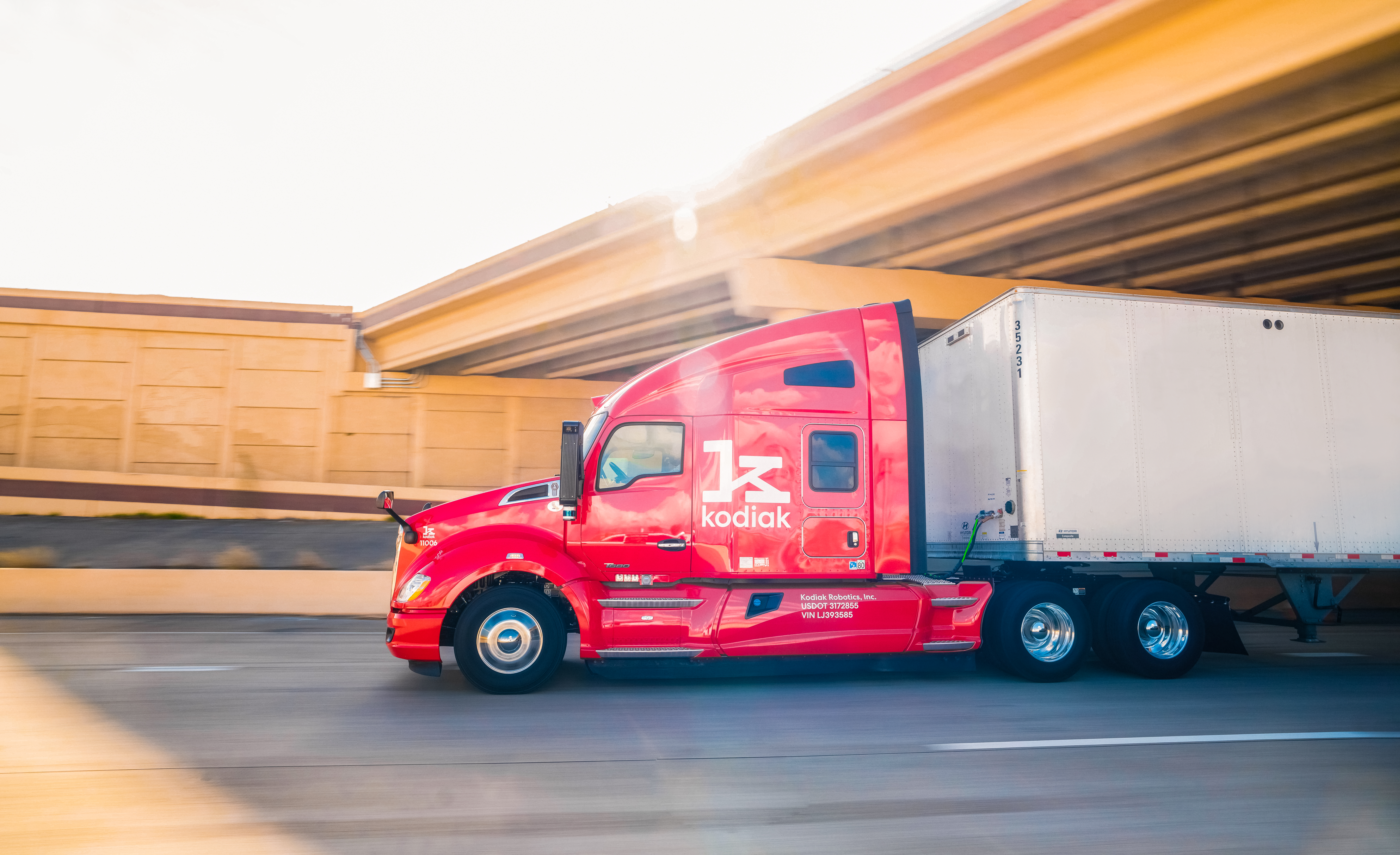 At a more micro level, trucking is a highly regulated industry, and there are a small handful of regulations that do not envision a driverless world. AVIA has worked closely with its regulatory partners to identify those regulations and develop innovative solutions that will allow for driverless deployment while ensuring the highest safety standards. For example, over the last three years industry has worked closely with the Commercial Vehicle Safety Alliance (CVSA) to develop new commercial vehicle inspection procedures adapted to the needs of autonomous trucks. In September, CVSA approved this Enhanced Inspections framework, helping to set clear procedures that will allow Kodiak to operate.
Why is your company a member of AVIA?
AVIA is indispensable as a force-multiplier for Kodiak, as well as a key forum for industry. Belonging to AVIA allows Kodiak to help keep tabs on fast-moving AV policy, while influencing policymakers in Washington and beyond. Kodiak has partnered closely with AVIA on legislative and regulatory policy in DC, and worked to pass legislation in the states. Lastly, AVIA is truly the critical voice advocating for the safe deployment of AV technology, in the media and beyond.
AVIA serves as a critical discussion forum for AVs. The conversations that occur at AVIA, and the relationships that have been formed on the weekly federal and state policy calls, have been critical in developing industry's consensus approach to regulation and are responsible for the tremendous progress industry has made on critical policy issues over the last several years.